Metallic Stainless Steel Tile Idea For Your Interior Wall Backsplash Design
There's nothing that screams luxury like a little shine! These metal wall décor ideas can give your room a luxurious touch. Are you more vintage with an Art Deco-inspired brass inlay, or dazzling with a bold gold glass mosaic? Industrial with a stainless steel backsplash or a textured porcelain detail? Check out some of our favorite ways to add a shine to your decor with these metal tile ideas!
Why choose metal tile to decor your wall backsplash?
There are countless options for your style when it comes to selecting decor for your home. Yet, if you want to add a sparkling statement, metallic decor accessories can provide a unique design! Indeed, matte black fixtures add a modern edge, and all-white decor can support a minimalist home.
When arranged properly, they can transform a room from plain to fabulous with only a few easy touches! It is crucial for interior design projects with limited funds but significant impact.

Your room can be stylishly transformed with metal wall decor!
What are the pros and cons of metal stainless steel tiles?
Let's start with the positives:

Metal-like tiles may give any room a sense of grandeur while also being surprisingly useful. For instance, decorative patterns are heat-resistant and simple to clean, which makes them perfect for use in bathrooms and kitchens. Moreover, shiny materials may be quite strong and resistant to wear, allowing them to withstand significant foot traffic. Metal look tiles can be utilized to produce both classic and modern effects because they are available in a variety of hues and styles.
Let's go through some of the drawbacks that you should consider when selecting metal wall art.

Costs may be an issue depending on the metallic design you select. For this very reason, you should always take your budget into account before buying tiles. Porcelain will be less expensive than a marble stone tile with a brass inlay.
In addition to price, it's important to think about the location of your tile. Glass is versatile and suitable for floor designs as well as backsplashes, but brass is only suitable for walls and is not necessarily water-resistant (so showers won't work!).
What are the types of metallic mosaic tiles you can choose from?
Who doesn't enjoy diversity when it comes to interior decorating? Certainly not us! The usage of polished tiles can improve your surroundings and give you a variety of options to suit your individual tastes in decor and personality. To help you get ideas for your project, we've included some of the most popular metal-look tiles available, from gold to copper.
Gold metal tiles 
Any design may benefit from metallic accents, and our Glossy Gold Hexagon Glass Mosaic Tile is the ideal example. The addition on the walls lends the above-shower a touch more elegance. Gold hex tiles are certain to beautify and accentuate your house, whether you're searching for a delicate accent or a strong statement piece.
Flooring, backsplashes, and accent walls can all be finished with gorgeous and opulent gold tiles. They offer a sense of luxury to any area and are long-lasting and simple to maintain. However certain genuine gold materials can also be incredibly pricey, so it's vital to shop around before you buy.
Stainless Steel tiles 
Stainless steel tiles are a classy and classic option for interior design. These ornamental mosaics can add light to any area thanks to their reflective surface. They also have a special capacity to change look in various lighting situations, which gives a space more intrigue and dimension. both traditional and contemporary design styles may be appropriate. Steel tiles are certain to offer elegance and sophistication to any home, whether they are employed as accent pieces or as the project's main element.
Stainless steel penny round tiles 
For any interior, penny tiles are a chic and modern solution. What happens then when you combine this classic look with a glittery twist? Magic! Only sort of, I guess. The truth is that giving penny round tile a shiny polish gives it a lively, contemporary aesthetic that updates a timeless classic. Hence, you combine lifespan and attractiveness in one go!
Stainless steel pebble mosaic tiles
Searching for a new twist on the organic interior design trend for 2023? A stainless steel pebble mosaic tile can help you achieve that. Steel will shine (literally) in any environment where it is used because it is strong but also dazzling in appearance. Employ them as a backsplash in a powder room or a wet bar at home. When you want to give your design a pop, there is no wrong way to style them.
Silver Decor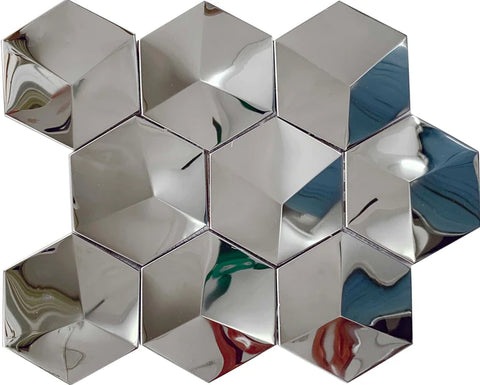 Because they are inexpensive and simple to maintain, silver tiles are a common choice for interior design. But, there are several industrial and commercial uses for silver as well. Hotel lobbies, waiting areas, etc. It's a versatile decorating choice for both residential and business owners. Silver tiles might be the best option if you want to remodel your home's decor on a budget or require a strong material for an industrial use.